Spotlight On... Brittany Boilard
December 7, 2016 | Author: Meghan O'Connor
This December marks three years with Columbia for a staple of the Interiors Department's project management team, Brittany Boilard. It's fitting that her favorite aspect of working at Columbia is "the atmosphere – everyone works hard but also makes sure to check in with each other, help each other out, and have fun," because Brittany is a perfect example of that outlook. Known for her friendly and positive personality, she consistently approaches her work with a can-do attitude and is always willing to help the team out. This year Brittany has transitioned into running projects, managing budgets, coordinating schedules and maintaining constant communication with both internal and external team members. Kanyos Bio, the first interior fit-out project that she took the lead on, was a success despite challenges. "It wasn't a glamorous project, but it required a lot of missed coordination to be addressed midway through," says Brittany, who holds completing the project on time against the odds as a professional highlight. Another impressive stat: Brittany has a 100% success rate in project interviews; she recently attended her first, which resulted in a win!
Just a Small Town Girl
A third generation Wentworth alumni, Brittany continued the family tradition by earning not one, but two degrees from Wentworth; a BS in Architecture and a Masters in Construction Management. She played soccer throughout her college career and counts moments on the field as her best memories from school. Moving to Boston for college was quite a change, after growing up in Leicester, a small farm town in Western Massachusetts that she describes as "only an hour from the city, but a whole different world." By now she knows Boston as well as any local, between living in different apartments, working on construction projects, trying out restaurants and attending fun events she's seen the whole city. Brittany loves to travel, she studied abroad for a semester in France, loves weekend trips to explore other parts of the country and is hoping to venture to Ireland and Scotland soon!
A Team Player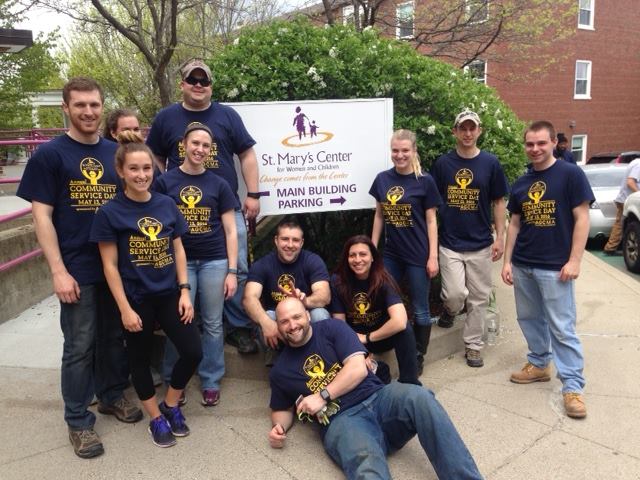 Professionally, Brittany is actively involved in several groups including the MBC 20:30 Group for young professionals in the A/E/C industry, NAWIC (National Association of Women In Construction) and the outreach focused Columbia Cares Committee. Volunteering at the Associated General Contractors' (AGC) community service event supporting St. Mary's Center for Women & Children in Dorchester alongside colleagues was a memorable and rewarding experience this May. Brittany takes an active role in organizing team building activities within Columbia as well, and was instrumental in pulling together the much anticipated (and bound to be extremely competitive) Escape The Room event for the Interiors Department in February. Thanks for everything you do Brittany!
Fast Five: Speed Round
All Time Best Christmas Gift: When I was 7 or 8, my aunt surprised my sisters and me with a puppy! She was a rescue Lab, and my parents were just as surprised as we were
First Concert: Spice Girls! I was always torn between Baby Spice and Sporty Spice as my favorite
Skiing vs. Snowboarding: Definitely snowboarding
Favorite Ice Cream Flavor: Hunka Chunka PB Fudge, Friendly's brand
Favorite Place You've Traveled: I would have to say Barcelona – I visited during my semester studying abroad. It's got warm weather, beautiful scenery and is relaxed, not rushed