Spotlight On... Columbia Energy Featured Projects
April 27, 2017 | Author: Meghan O'Connor
Columbia's Energy Division has completed several PV Solar Electrical System projects within the past five years, installing solar panels on rooftops or constructing arrays over existing parking garages. Solar arrays are an environmentally friendly way to produce energy, utilizing a natural and renewable resource (the sun) and avoiding CO2 emissions (a side effect of power generated by fossil fuels). Building owners interested in renewable energy can make use of otherwise unproductive space, like a building's roof or the top of a previously uncovered parking garage, to place panels that easily feed power to the building. Chris McCarthy, Vice President and leader of Columbia Energy, emphasizes that PV systems over parking garages are beneficial on multiple levels. An immediate advantage to tenants is the protection over their cars – which decreases time spent clearing off snow in the winter and waiting for inferno-like cars to cool down in the summer. Building owners' snow removal expenses will be reduced by 90%, and eliminating salt damage will decrease the need for concrete repairs. Additionally, they will experience savings on their electrical bills, as well as compensation through incentive programs – not to mention the benefits to the environment!
Hobbs Brook Management, a developer of premier office space, recently implemented a sustainable and renewable energy initiative at their properties. A major part of this effort includes enlisting the help of Columbia Energy in order to construct 3.5 megawatts of PV solar electric systems on their existing structures. These systems, which directly feed power to the adjacent buildings, generate almost 4 million kilowatt hours of electrical power per year through sunlight alone. Hobbs Brook and Columbia have worked together to add these arrays to their properties in Waltham, Lexington, and most recently Wakefield.
Working in Wakefield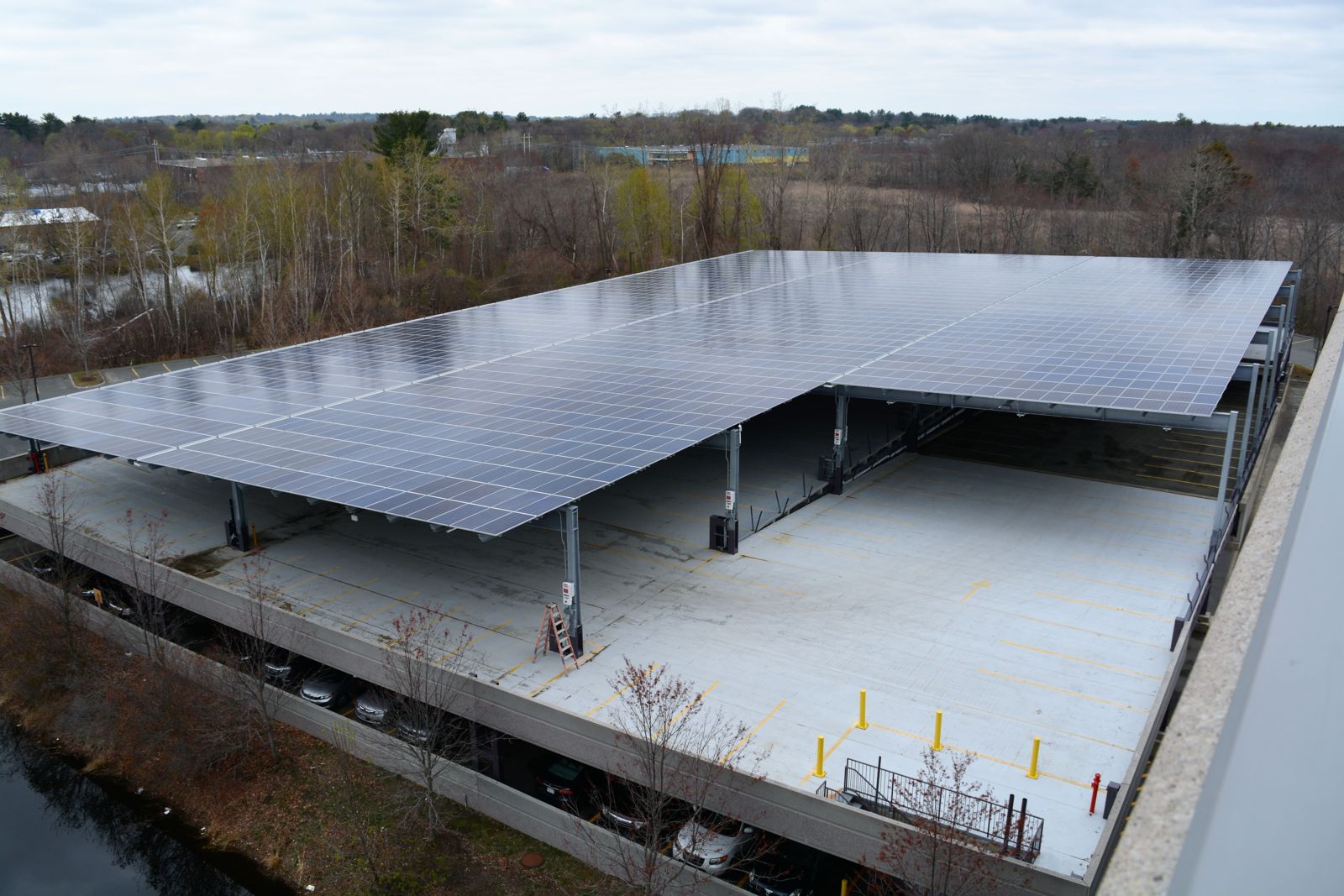 Construction at 601 and 701 Edgewater Drive in Wakefield is currently wrapping up. These design-build projects have featured Columbia Energy as the sole point of contact for Hobbs Brook Management throughout all phases of both design and construction of solar arrays atop the existing parking garages for both buildings. Each parking garage array feeds power to the building it is associated with - the short travel distance minimizes energy loss in transmission and maximizes that amount of viable solar energy for building use. In addition to the previously mentioned benefits, these garages also feature water and snow management systems that are connected to the existing drains, as well as high efficiency motion sensor LED lights. At 701 Edgewater Drive, the array produces 22% of the energy that the building uses, significantly decreasing the amount of fossil fuel generated energy Hobbs Brook purchases each year. Columbia is proud to take part in this initiative that positively impacts building owners and tenants, as well as the environment.
Fast Facts
76% of all electricity produced in the United States is consumed by commercial buildings
70% of electrical generation uses fossil fuels that release carbon into the atmosphere
Every minute, enough sunlight hits the Earth's surface to supply the entire world's energy demands for a year
PV solar electrical systems produce 0 carbon emissions
The solar energy market has created over 175,000 jobs in the United States
Pictured Above: Columbia Energy leader Chris McCarthy at 601 Edgewater Drive with Project Superintendent Erik Julio. Not pictured: Project Superintendent Rick Pulsifer