Spotlight On... Helping Hurricane Harvey Victims
April 18, 2018 | Author: Meghan O'Connor
In August 2017, tropical storm Hurricane Harvey left the Houston, Texas area devastated. Unprecedented flooding brought on by the storm caused billions of dollars in damage. The effects were so catastrophic that Houston residents are still struggling to pick up the pieces eight months later. Marty Litchfield, a Superintendent at Columbia, brought his skills and experience in the construction industry to Houston last month to participate in a relief effort benefitting victims.
Marty's son and daughter-in-law, Matthew and Rebecca, are local missionaries working with Cru, an international Christian organization that oversees numerous opportunities for community outreach. In March, Matthew led an alternative spring break trip for UMASS Dartmouth students. The group of 20 students flew down to Houston for a week-long trip focusing on helping the victims of Hurricane Harvey rebuild. Matthew asked Marty if he would be willing to accompany them to Texas to spearhead the construction efforts, a role Marty was thrilled to accept.
"People in Houston have lost so much, and starting the rebuilding process themselves is very overwhelming," Marty says, "Working in the construction industry, I have a different perspective, and I like being able to bring some order to the chaos."
After an orientation with local relief group 8 Days of Hope, Marty's group was assigned to a drywall job at a private home. When they arrived on site, they found conditions to be much worse than they had been told. Only one room in the house had functional electricity and HVAC and was ready for drywall. The rest of the house was crowded with belongings, many of them water damaged. The team met with the recently retired homeowner and asked him what they could do, making it clear that they were willing to help in any way they could. With his direction, they got to work! Marty organized and worked alongside the students as they set up a portable garage to store some items, cleaned out and moved furniture, and cleared out trash. He also guided them as they completed more technical tasks like roughing in electrical, wiring, and installing insulation. Despite the unforeseen conditions, they were able to get 95% of the drywall on the walls!
Selfless Service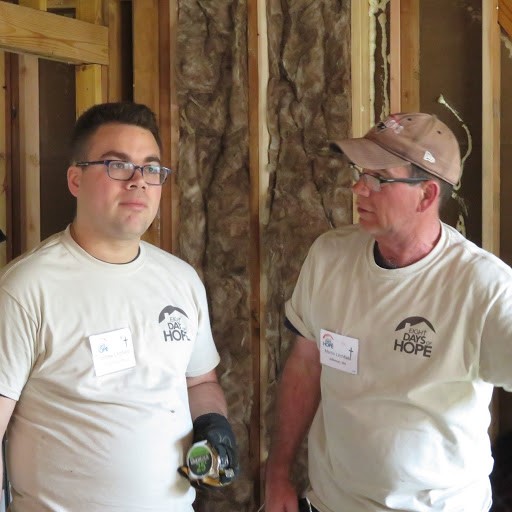 The service trip's schedule outlined four days of service followed by one day off for the students to have fun exploring the Houston area. Marty, used to working a five day week, saw the substantial impact that one more day of work could have for the grateful homeowner. He asked his son to talk with the students and see if a couple of them would be willing to continue working on their last day. The students held a meeting that night, and the decision was unanimous – everyone wanted to work on the house for another day. Thanks to the group's hard work and selflessness, the home was left in far better condition than when they arrived. Marty was truly proud of what the team was able to accomplish - their service not only improved the homeowner's quality of life immediately but also set him up for success in future rebuilding efforts.
Marty describes his week in Houston as a humbling and rewarding opportunity to apply his skills as an experienced Superintendent for the benefit of others. In addition to making considerable progress in the rebuilding process for a homeowner, Marty taught many of the college students basic construction skills. Several students thanked him, saying they felt far more comfortable using tools after his instruction. Columbia is proud to support Marty's outreach efforts, and we hope that sharing his story inspires those who want to help others, but may not know where to start. Marty's advice? "All you have to do is listen, open your door and look around you to help people. You don't have to go far to make a difference."