Spotlight On... Tom DeRosa
"A strong foundation has been built for Business Development at Columbia, and I'm excited to be a part of the process and support our continued success," explains Tom DeRosa, who recently joined Columbia's team as Business Development Manager for Interiors. In this role he will be creating relationships within the A/E/C community and discovering opportunities for collaboration. Coming off of managing multiple programs in the non-profit sector, Tom is looking forward to learning more about the construction process as well as various firms in the industry. He has quickly proven himself as a good fit for Columbia's Interiors Group, where he says that "everyone is on the same page which results in a really strong culture."
A Wicked Good Slapshot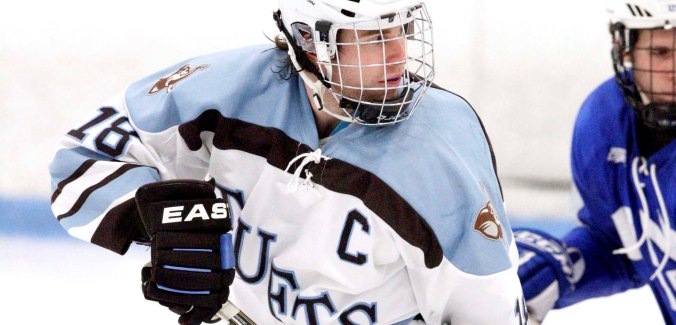 Tom was born, raised and currently resides in Charlestown – as does the majority of his extended family. This allows him to go to spur of the moment Bruins games at the Garden; he is a big hockey fan and a talented player himself. After graduating from Boston Latin School, he played forward for his alma mater, Tufts University, he was All NESCAC three years in a row and team captain his senior year. With a nickname like "Slapshot", he is just the guy the Columbia Crushers need on the ice this season! Although his days as a collegiate athlete are behind him, that hasn't stopped him from playing regularly in men's leagues. He also enjoys roller hockey, golf and running road races – like last month's Thompson Island 4K.
Fast Five: Speed Round
Favorite Candy Bar: Crunchie Bar, it's made by Cadbury. It's hard to find, but it's the best. So if you do find one, don't think about it – buy it.
Show You've Watched in its Entirety: Seinfeld. My relatives can't go more than 15 minutes at family parties without a Costanza quote being said.
Favorite App: That's a really good question, I would have say StubHub because it's great for cheap last minute tickets to Bruins and Celtics games.
Best Previous Halloween Costume: Abraham Lincoln, actually. Multiple times – I'm a big Abe fan.
The Town vs. The Departed: Such a tough question, but I have no choice but to go with The Town.
Welcome to Columbia, Tom!