Spotlight On... Roberta Verville: Celebrating 20 Years at Columbia
June 22, 2020
Columbia is running a series of blog posts featuring employees who are celebrating a significant anniversary with the firm. Our second installment features someone who has been with us for 20 years – Roberta Verville.
Roberta started her career as a staff accountant. She didn't initially see herself in this role and always dreamed of being a banker. But, after 20 years with Columbia, she couldn't imagine herself working in a different position, or even at a different firm. Roberta views Columbia as her second family and is very committed to the company.

What have you liked most about working at Columbia?
The people, most definitely the people!!! I've made so many great friendships along the way that they have become more than just co-workers.
What lesson did you learn early on in your career that you still carry with you today?
You are only as good as those you surround yourself with. It's all about teamwork!
Three descriptors that best describe you?
Golfer, fisherman, sports enthusiast, and mother/wife.
Special talent or most useful skill?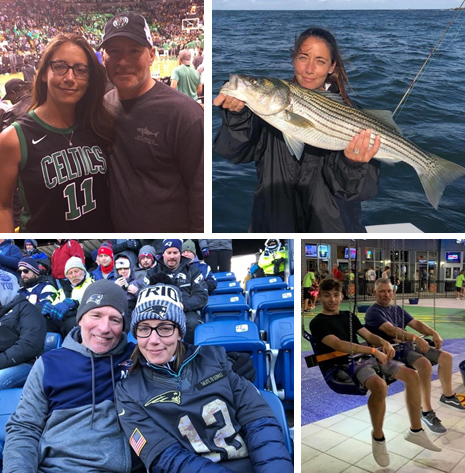 I am a professional lobster eater. My favorite food is lobster, so I've become skilled at picking out every last piece!
Favorite summer or winter activity?
Golfing and fishing on the ocean -- the ocean is my happy place!
Favorite vacation spot?
Myrtle Beach. I have been going there every year with my son and husband for over 15 years.
Best concert? Or favorite band?
Metallica and NWA
Two items on your desk?
Adding machine, iced coffee, and my shark collection (I love sharks!).
Cat or dog?
Dog all the way - hate cats, they scare me!
Morning person or night owl?
I love my mornings, enjoying my coffee, and playing Candy Crush in peace.
Outside the office you will likely find me…
Golfing, going out with my best friends on travel adventures near and far (I have four people I have been friends with for over 20 years) and hanging out with my family (parents, sisters, and nieces and nephews).

For those that work with Roberta they know of her dedication and work ethic, as well as her ability to have a good time and bring people together. If we ever have the chance to give people a high-five again, make sure you give one to Roberta. She's been one of Columbia's "frontline" workers through this pandemic and we truly appreciate her hard work. Congratulations Roberta on your 20 year anniversary!