Spotlight On... Bullhorn's Jam Room
October 12, 2016 | Author: Meghan O'Connor
The goal was clear from the earliest stages of Bullhorn, Inc.'s collaboration with Columbia Construction and IA Interior Architects; they wanted a 'Jam Room'. In addition to an open concept floor plan with various casual meeting spaces, the CEO and CFO of the CRM software company envisioned an extra room to complete their space. They desired a place where they would have the ability to get together and play their electric guitars and drums right in the office. The catch– the office and Jam Room would be located at 100 Summer Street, a high rise in downtown Boston with multiple tenants on surrounding floors.
Since avoiding noise complaints from neighbors was a huge priority, the team consulted with an acoustical engineer. After explaining that they planned to construct a 450 sf room soundproof enough that rock music could be played without disturbing other tenants in a high rise, they were not exactly met with encouragement. The email response read "We strongly recommend that the Jam Room is located off site in another building with no other tenants and no direct adjacencies." Although it would be no easy task, Columbia and IA were determined to make it work because as Columbia's Estimator Matt Arsenault explained, "it was our understanding that if the Jam Room didn't function as designed, the project would be considered a failure."
No Noise is Good Noise!
The acoustical engineer then outlined the extreme measures that the team would have to take in order to proceed with the original plan. With that guidance Columbia and IA were able to create a 'box within a box'.
As Columbia's Project Manager Josh Dretchen put it, "We had to contain as much sound as possible. Essentially we built a room where the walls, floor and ceiling don't touch anything but themselves, then there is an air gap, then we built another box around that."
In addition to those layers, the Jam Room has a suspended acoustical ceiling, a soundglass window and acoustical door, and Auralex sound foam panels on the walls for added sound absorption.
Rock On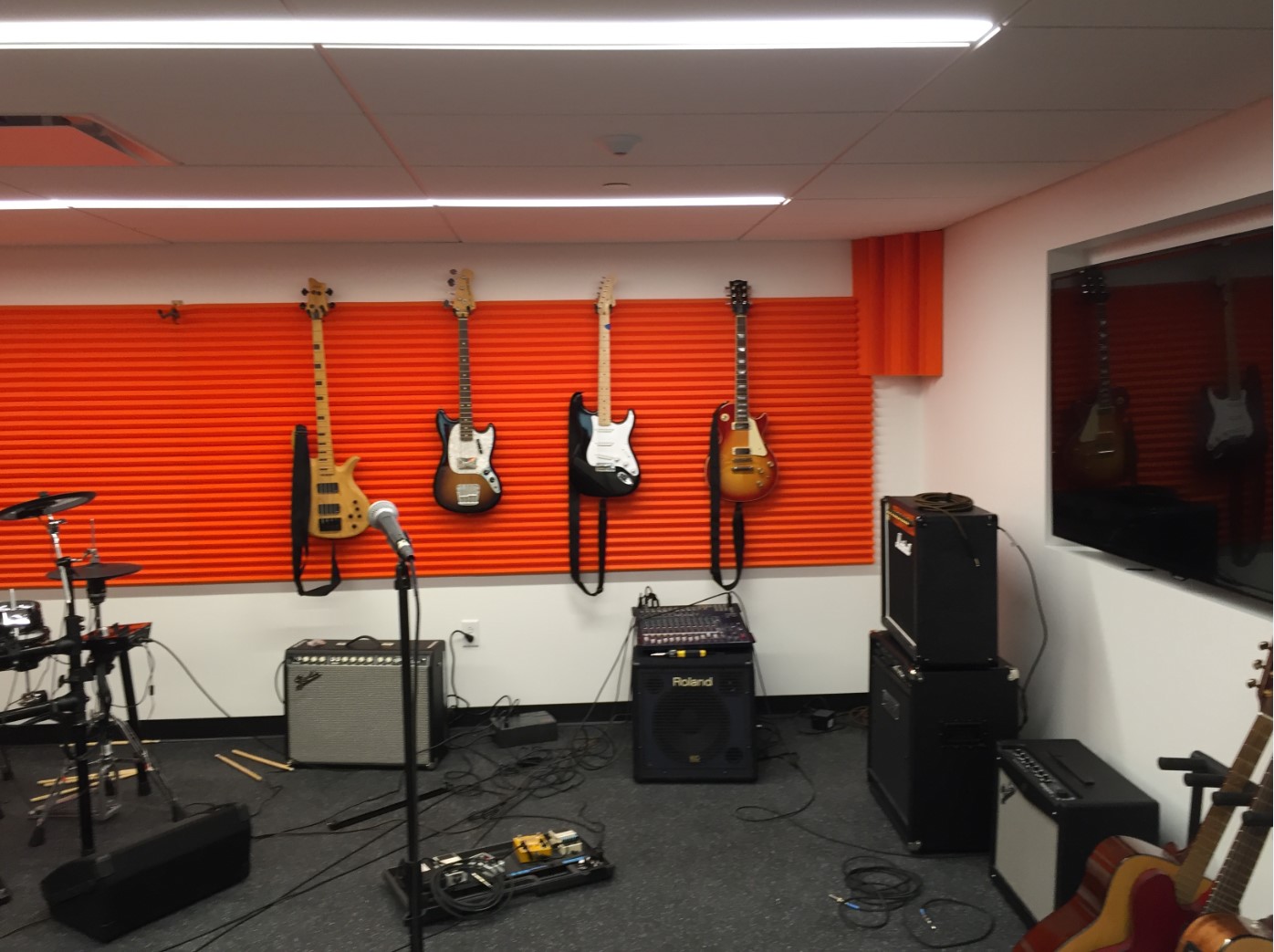 Today, Bullhorn's Jam Room houses multiple electric guitars, amps, and an electric drum set. The CEO and CFO are able to schedule time in their day for jam sessions, just as they had desired when first planning their new space. The Columbia team was glad to help bring some rock 'n' roll to Bullhorn's work week – most importantly, with no complaints from the neighbors!