Spotlight On... NAWIC
March 8, 2017 | Author: Meghan O'Connor
March 5th – 11th is Women In Construction Week, the perfect time to focus on one of the most prominent women's organizations in the industry – NAWIC. The National Association of Women In Construction is an organization made up entirely of women with a mission to promote the construction industry and support the advancement of women within it. Founded in 1953 by 16 women in Fort Worth TX, the group has come a long way over the past 64 years. NAWIC now boasts over 6,500 members within more than 200 chapters in the United States and Canada, including a few members of our Columbia team! Both Siggy Pfendler and Brittany Boilard are on the Board of Directors for the Boston Chapter; Siggy holds the position of Vice President and Brittany serves as Recording Secretary. Besides holding membership, Liz Martel spearheaded the recent redesign of the NAWIC Boston website, www.nawicboston.org (and did a fantastic job!). Columbia is proud to be a part of NAWIC's efforts to support individual success in the construction industry through networking events, educational seminars and the NAWIC Founders's Scholarship. Established in 1963, this scholarship has funded countless students, both male and female, pursuing construction related studies. Over $250,000 has been awarded in the past five years alone.
"It is incredible to have access to not only a network within the industry but also a group of supportive individuals you can rely on for everything from career guidance to life advice. At NAWIC, women are encouraging and mentoring other women, helping them thrive in a sometimes intimidating industry." - Brittany Boilard
Gaining Insight & Giving Back
In celebration of WIC Week, NAWIC has planned three major events. To kick things off, a panel discussion was held last week at Wentworth Institute of Technology. The panel was moderated by one of NAWIC Boston's past presidents, and featured three additional past presidents, who answered questions and spoke about their challenges and successes within the A/E/C industry, work life balance, and how being a part of NAWIC has contributed to their career development. Columbia was happy to sponsor this event (especially since we have a past president in-house: Sharon Jozokos!), where around 50 attendees enjoyed a social hour before the panel as well as a reception following the main event. The organization is also partnering with Uncommon Threads, a local charity whose aim is to boost the confidence of women in need through wardrobe styling, to collect women's clothing donations. All clothing items will be provided to women who are starting their careers and don't yet have the means to fund a professional wardrobe. These clothes will empower women in need to start and advance into the careers that they want, so if you have any clothing that applies or are willing to donate, contact any of our NAWIC members! Finally, NAWIC Boston is collaborating with the Worcester Chapter to participate in a Habitat for Humanity Build Day in Northboro, MA. This is an opportunity to give back, as well as work alongside and get to know people within the industry as well as other NAWIC members.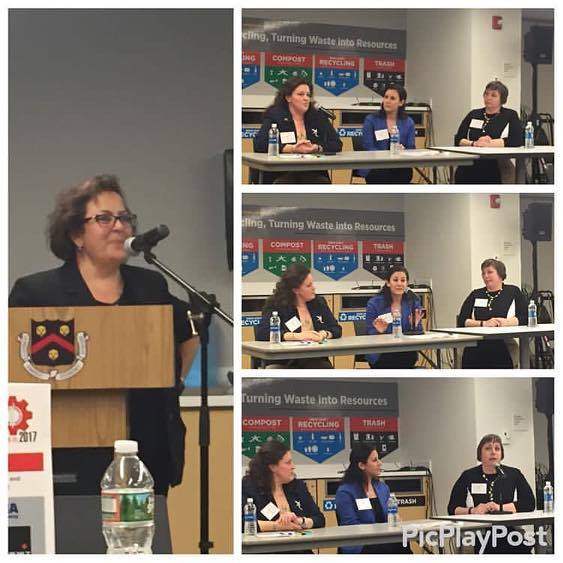 Aspiring to be a source of support and knowledge for all women in construction, NAWIC strives to create events that are educational and reasonably priced – and you don't have to be a member to attend! On April 25th, NAWIC will be partnering with the BSA for a session entitled "Living With Water" that will educate attendees on the risks associated with rising sea levels and severe storm surges, as well as strategies to deal with these issues in a coastal city. They are also holding an Educational Summit in May, which will consist of a full day of panels and speakers covering industry related topics, such as BIM and asbestos removal. NAWIC also organizes various fundraising events throughout the year to contribute to their scholarship fund, which are great networking opportunities with a good cause behind them! If you are interested in becoming a member of NAWIC, attending any of their events or just learning more – please don't hesitate to contact Brittany or Siggy, and check out the great website that Liz created!
Happy WIC Week!