Spotlight On... The 2017 Sam Lilly Awards
January 25, 2018
2017 marked the presentation of the fourth annual Sam Lilly Founder's Award for Construction Excellence to two exceptional projects completed in the past year. Created in memory of Sam Lilly, who founded Columbia Construction Company in 1925, the internal award acknowledges one project from the Columbia's Mainstream division and another from Interiors. Qualifications for achieving excellence include overcoming design and construction challenges, successfully accommodating a fast paced schedule, and/or developing positive relationships with the entire project team while exceeding their goals. Each year, three completed projects from each division are shortlisted as finalists. The project teams are then tasked with creating a video presentation showcasing their project and highlighting why it deserves the award – a highly secretive and competitive process in which creativity is encouraged! Once completed, the videos are viewed by the entire company and the winners are determined by a popular vote.

And The Award Goes To....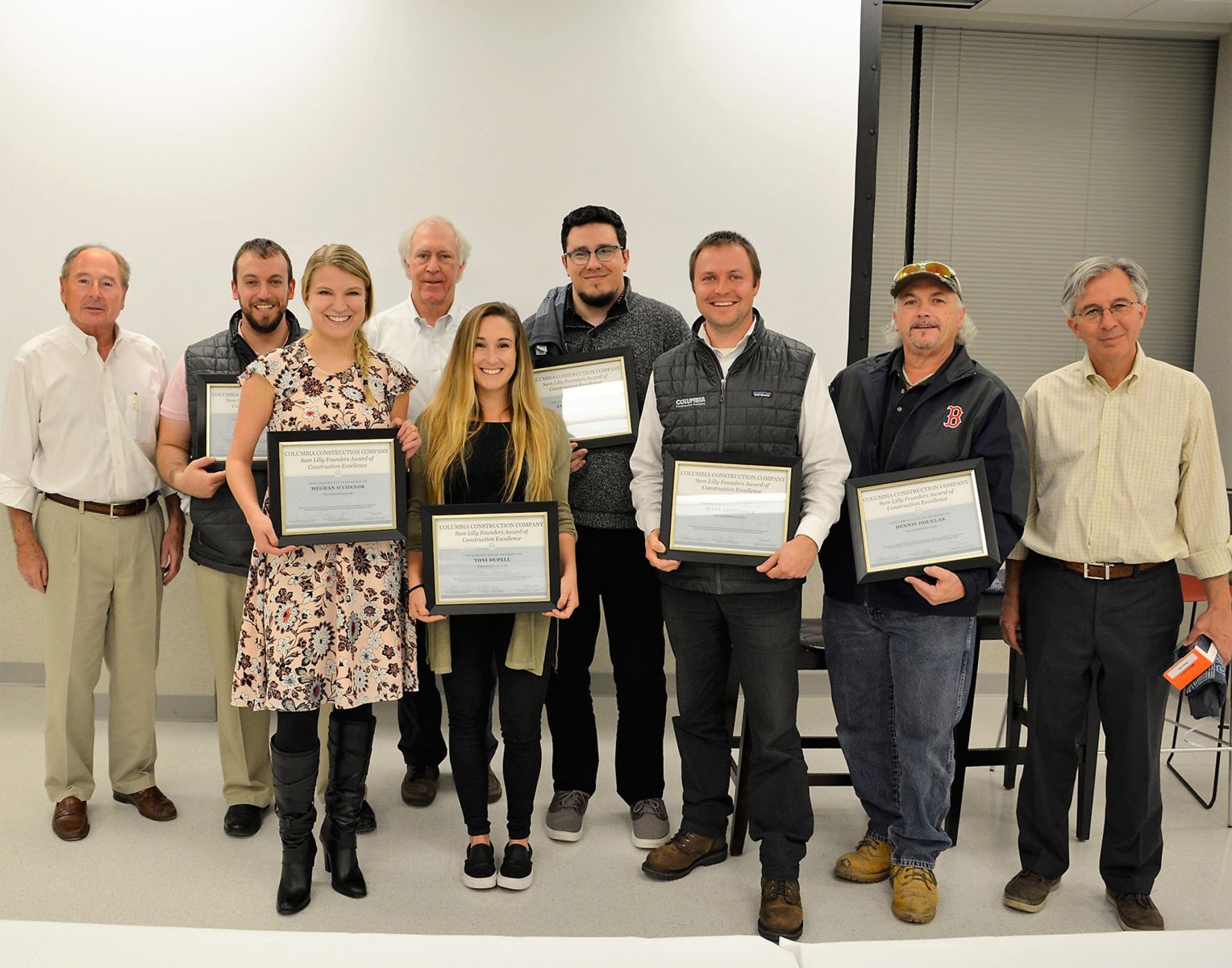 The Interiors Division's winning project was a Class-A office fit-out for a confidential financial firm. In addition to the many impressive features contained within the new space, this project is noteworthy because of the preconstruction process that allowed construction to run smoothly and with limited changes. Great team collaboration between Columbia, the client, architect and engineer made the construction process an enjoyable one. Congratulations to the project team: Josh Dretchen, Dennis Douglas, Toni Dupell, Matt Arsenault, James Christie and Meghan O'Connor!
Taking home the title for the Mainstream Division this year was the FM Global SimZone Expansion project. This was a 32,000 sf expansion of the insurance company's state of the art SimZone training facility. The space, which is the first of its kind, is utilized to run simulations of potential hazards that could affect commercial property owners. The wide variety of simulations includes fires, equipment malfunctions, ignitable liquid perils, and construction or electrical hazards. The project team's hard work paid off, resulting in a final product that both came in under budget and brought to life a space designed exactly the way FM Global desired. Congratulations to the project team: Sam Dettore, Dave Roulier, Joe Hayes, Kevin Neville, Judy Delorey, Mike Davidson, Matt Arsenault, Jessica Chasse, Melissa Rivera and Elizabeth Martel! To learn more about how the team brought the SimZone from a concept to a reality, check out their video!
These finalists deserve honorable mention! Follow the links to see the videos for TJX and MGH Assembly Row